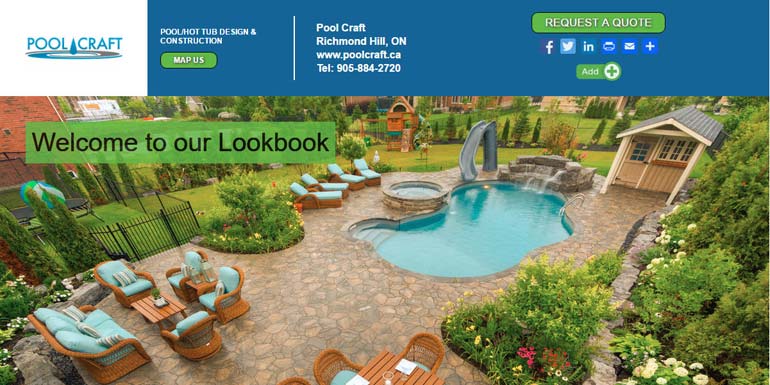 Pools, Spas & Patios' Backyard Lookbook community helps to bring homeowners and backyard contractors and/or maintenance providers together in an easy-to-navigate online visual directory.
Homeowners can locate companies by geolocation, type of service, or company name. More importantly, Backyard Lookbooks provide the opportunity for a company to showcase its expertise as a pre-eminent backyard designer/builder.
Creating a Backyard Lookbook is easy and provides builders/service providers with their own microsite—with a dedicated URL—to boast experience, certifications, accolades, and showcase spectacular projects. Branded with the company's logo and a personalized description, photos and/or videos can be uploaded to an image carousel. Files such as brochures, sale promos, maintenance forms, and guidelines can also be uploaded, making it easy for consumers to find what they are looking for in less than three mouse clicks.
Further, homeowners can request a quote directly from a company's 'Backyard Lookbook' as well as share individual Lookbooks with friends and family via social media hot links, making it easy to find inspiration, discover the latest trends, and connect with a backyard contractor.
To create a Backyard Lookbook, visit www.poolspas.ca/lookbook-portal/#check, or e-mail sales@poolsspaspatios.com for complete details.