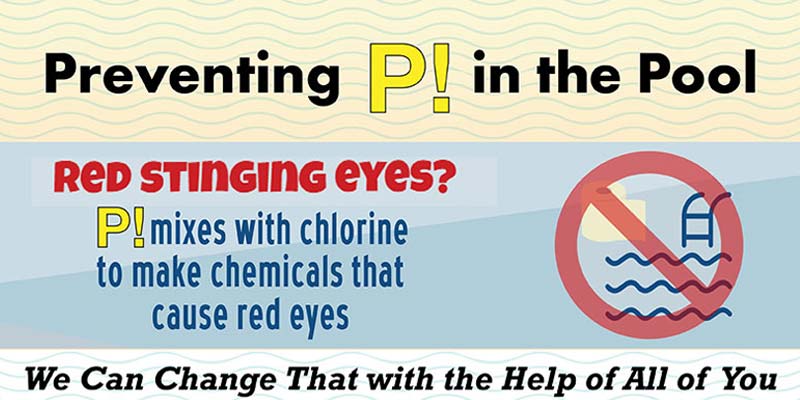 As part of a season reminder and update on keeping pools clean and open, the National Swimming Pool Foundation® (NSPF®) has issued a public service message to positively influence bather behaviour and improve water and air quality in and around pools by preventing pee in the pool.
Within the last year, 200 swim clubs, manufacturers, aquatic facilities, engineers, designers, builders, suppliers, educators, and industry influencers have pledged to 'Prevent Pee in the Pool.' Coaches, parents, and facility managers can make small changes that create a big splash and turn the tide against peeing in the pool.
Scientific studies by the CDC verify urine from pool users is the largest avoidable contributor to harmful pool disinfection byproducts, the leading cause of eye, skin, and breathing irritations all too commonly associated with swimming. Preventing pee in the pool ensures more people can safely enjoy the health benefits of swimming without the harmful side effects of red eyes, asthma, and rashes.
If pool users take the time to shower and use the bathroom before enjoying the pool, the water and air quality will remain cleaner and safer for all pool-goers. It is important to recognize that being submerged in water stimulates the body to create more urine. There are other simple ways for coaches, parents, and facility managers to reduce pee in the pool, including:
Swim coaches can give swimmers bathroom breaks every 30 to 60 minutes.
Parents can schedule "out of pool" snack time to give children a chance to use the restroom.
Facility directors can schedule "Adult Only" swim time for 10 minutes every hour.
Everyone can help by encouraging showering and bathroom use before entering the pool, waterpark, or aquatic facility.
Mark Weber, former USA Swimming National Team member and project manager for Paddock Construction in Rock Hill, SC, says he actively avoided many indoor aquatic facilities because of the breathing problems he regularly suffered when swimming indoors.
"In high school, I dealt with what felt like chronic bronchitis due to the poor indoor air quality at my local pool," said Weber. "My college choice was then influenced by Florida State University's outdoor pool. I knew I wouldn't have to worry about terrible breathing conditions while swimming outside." Post college and while training to qualify for the Rio Olympics, finding a facility with well-maintained indoor air quality was always at the top of Weber's list.
Maintaining proper water and air quality benefits everyone in and around the pool, and this season everyone has a role to play. When families and friends gather in backyard pools for summer fun, regular bathroom breaks should be encouraged. When guests visit aquatic facilities to enjoy the many benefits of water activity, remind them to use the toilet.
To help reinforce this messaging at aquatic facilities or backyard pools, Preventing Pee in the Pool signage should be posted in prominent locations. Visit campaign partner Paddock Pools for more information.