Hidden surprises
The same type of stones were harvested and split for the custom surround built for the portable, self-cleaning hot tub shell by Hydropool Hot Tubs. This allowed the hot tub, which was placed directly adjacent to the house, to reflect the home's existing century fieldstone foundation. During excavation, the original stone steps from the old front stoop were uncovered and eventually integrated into the new design, as steps leading up to the hot tub.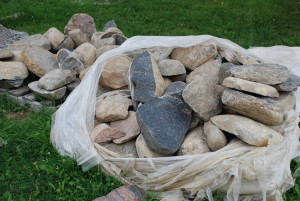 Using heavy equipment, workers were also able to rescue some much larger boulders from the farmland area of the property and incorporate them into adjacent garden beds, where they now take centre stage. Costs were kept down by using Tumber's equipment and dump trucks to move fill material from the site, which was used to create the grade changes and elevated pool and cabana area and maintain views of the valley.
Also, in the process of excavating for the pool and terrace area, the original cistern well for the property was uncovered. This added a little extra work to the project, in order to properly dismantle this old utility.
Planning the perfect pool
Without small children or grandchildren in the family at this point, and considering the clients' typical pool usage, a smaller, relatively shallow San Juan fibreglass pool was selected. This choice would mean the pool would be much easier to heat and maintain compared to a larger model, which was ideal considering the homeowners would typically only be at the property on weekends. The pool shape includes a sun shelf for lounging and integrated, curved steps. A Pentair equipment set includes a variable-frequency drive (VFD) pump and control system along with a saltwater chlorine generator, high-efficiency heater and cartridge filter.
A multilevel terrace was designed to add some intrigue to the surrounding flat area. Using a fibreglass pool allowed designers to push the sunken terrace right up to the edge of the pool, allowing visitors to literally sit poolside on the 457-mm (18-in.) high exposed stonewall. This is not only visually exciting, but also allows groups of visitors to mingle at the water's edge.  A warm-toned concrete decking material from Stone Link was chosen for these knee walls and the expansive terrace areas, which extended right into the pool cabana, fit with the look and feel of the rest of the project and to keep costs down.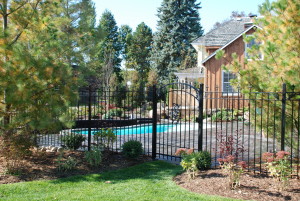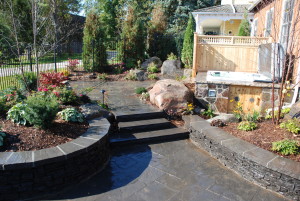 Another 'breakfast' walkout terrace was conveniently situated just outside of the front door at the edge of the hot tub, allowing the homeowners to easily take a few steps out with their morning coffee (and only steps to the hot tub in winter).
Privacy, sound and wind buffers were added along the backside of the cabana and connected up toward the new convenient backdoor entrance (also built by Tumber) of the home, using more 4.5-m (15-ft) mature spruce trees and plantings, along with a custom-made, wroughtiron fence system surrounding the entire pool area.