A welcome change
In an effort to create a more welcoming entrance, the original side door was moved to a more convenient location. This, however, created a challenge, as the entrance was only a few steps from the hot tub and pool area, where it would be important to have them screened off from the main arrival area of the property. Through the careful placement of large cedar trees and a custom-made cedar screen, these areas are no longer visually accessible to arriving guests.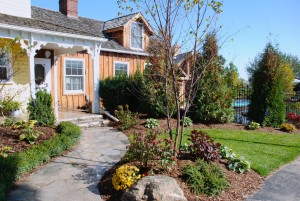 The original front door area of the home was also improved by adding appropriate access through a series of natural stone steps and complimentary foundation plantings down to the front lawn. This stretch can now act as a breakout area when larger crowds are being entertained.
The entire project was completed in September 2011, built entirely by Tumber & Associates' eight to 10 employees, who did all of the excavation, carpentry, stone masonry, pool installation, hardscaping and softscaping necessary to bring the homeowners' vision to life.
Overall, the clients are thrilled with the results of the project. Although the space was a relatively small portion of the sprawling country property, the thoughtful execution of the improved entrances to the home and access to the conveniently located hot tub, pool and pavilion, made for a completed look that feels authentic in the home's unique rural setting.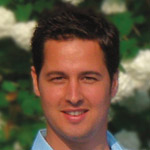 Jason Jayne is the business manager at Tumber & Associates, a landscape design-and-build firm headed by Randy Tumber, who has been designing and building natural landscapes for more than 35 years. The company specializes in mature, native landscape projects that lie just north of the Greater Toronto Area, planning and developing entire sites and project for its clients. Jayne been with the company for more than 10 years and regularly contributes articles and photography to many industry and consumer outlets. He can be reached via e-mail at jason@tumber.ca. For more information, visit www.tumber.ca.