By Bruce Riley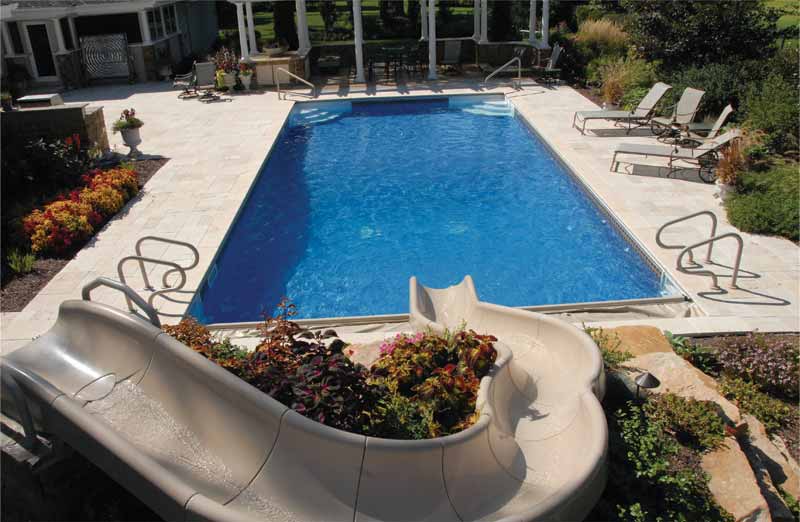 In the past, the term 'hardscape' referred mostly to concrete decks or pavers. Today, however, backyard designers are offering a wide range of hardscape products for both on and around the pool and backyard. Not only are professionals suggesting pavers, flagstone, and stamped concrete, but they are also providing designers with rock coping, waterfall grottos, slides, retaining walls, planting areas, and other 'stone' work that builds up and out from the pool.
Much of what is incorporated at the pool edge is created using a mix of cast-concrete stone as well as natural rock. These nature-inspired elements can be built to incorporate fun accessories like slides, waterfalls, and jump rocks which are then blended with pavers and other hardscape decks that lead into a cabana and/or other outdoor living area. Whether a pool builder is asked to plan a full outdoor renovation or the homeowner is just looking to install a new element or two, selecting the right mix of hardscaping can turn their backyard into a visual masterpiece.
Backyard of dreams
When it comes down to it, pool builders tasked with designing and creating the homeowner's backyard dreams. That first sit-down with the customer is critical in regards to introducing a variety of hardscape options to the client.
"It's very important to just listen to the customer," says Robert Shaeffer of Bob's Pools in Pennsylvania.
Consumers usually come to the table with ideas of what they are looking to install on their pool or in their backyard and an increasing number of them are looking for a water feature of some sort.
"Water features have become much more common now," says Shaeffer. "In the past, I might have installed only one or two of them every year, but now I'm discussing water features with all of my customers."
In addition to water features, creative deck treatments and integrated slides and jump rocks are items that create a stunning visual impact to achieve the homeowner's backyard dream.
In fact, often, the type of water feature the customer wants will determine the size and shape of the pool.
"In today's marketplace, it's about starting with the hardscape accessories around the perimeter then figuring out the pool as opposed to designing the pool first and then adding the water feature or slide," says Shaeffer.