Mimicking nature
Many builders like to mix real stone with cast concrete, too. This allows installers to offer the best of both worlds—natural stone with cast concrete stained to match, but much easier and lighter to install.
"We mix natural stone with cast concrete often as it gives us more flexibility," says Shaeffer. "In doing this, we work from the colours and textures of the natural stone to stain the cast concrete to match and blend them together."
Glen MacGillivray of Aqua-Tech Pools Ltd., in Winnipeg, notes, offering cast-concrete stone hardscape features has helped his company integrate water features into more of their pool designs.
"Building (water features) with natural stone can be unpredictable," says MacGillivray. "A builder can spend all day arranging the natural boulders and then have the consumer come home to say they would like to see them arranged differently.
"It's too much like artwork, and the labour costs can quickly get out of control. When installing component systems, a crew of four workers can arrange everything in roughly half-a-day to a full-day."
Not only is real rock hard to work with, it is also extremely expensive.
"We do have customers that happen to have a lot of beautiful stone on their property and ask us to use that stone to create a water feature," says Shaeffer. "We have made some beautiful natural-stone water features, but they are expensive, labour intensive, and can be unpredictable."
Weight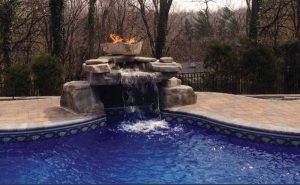 Hardscapes, whether they are fountains, slides, grottos, or caves are attractive but they can be heavy—especially if they are made solely out of natural stone. Putting a large amount of weight on the edge of the pool could compress the ground and settle the entire installation. That said, one reason why pool professionals and hardscapers are choosing to use or mix-in cast concrete is because it weighs one-fifth that of natural stone. They are also designed with a weight distribution per foot that takes pool construction into consideration. Therefore, it is important for builders to create a support structure to bear the weight of the water feature.
Integrated slides
Indeed, water features offer a tranquil, natural quality to any pool; however, many homeowners with children are looking for a hardscape addition, such as grottos and caves that are not only esthetically pleasing, but also fun.
Manufacturers are aware of this need so many offer component systems that allow installers to build rock staircases to incorporate slides into the structures. These modular stair systems can be easily built in one day, which is much faster than building a staircase system from scratch that would generally take at least three to four days. The labour savings alone make these component systems extremely price competitive in the marketplace.
The cost of the cast-concrete rock structure or component kit can be controlled much more easily, whereas in the past these features were made of real stone and could easily go beyond the original quoted price simply due to the unpredictability of the materials.
Using prefabricated slides—rather than constructing one—is a preferred method for many pool builders as they have been tested for safety and have built-in water delivery systems to ensure the surface remains consistently lubricated for sliding. Beneath the slide is a stainless steel support structure which makes it easy to build a composite rock feature around.