Water features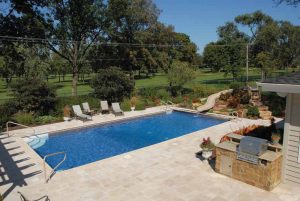 In some situations, homeowners invest more on the water features than they spend on the pool. In these cases, they are willing to do so because they find the sound these features create to be soothing, whether it is just a waterfall, grotto, or a slide.
Style
When deciding which style of waterfall to offer, it is important for builders to consider the different types of rocks—natural rock formations, a stacked stone look, or something more 'fountain-like'—so the design will complement their client's home and its surrounding environment. For example, if the house has a rustic setting, products that resemble boulders found in rural areas should be considered. However, if the home is more formal, a stacked stone look would likely be more appropriate. Further, if the home has a more contemporary design, builders should definitely look at the new, more modern-looking products that are available today.
Size
Once the style has been selected, it is important for the builder to choose a water feature that is 'in scale' with the pool area. Installing a water feature that is too large or too small can ruin the visual effect. The best rule of thumb is to fill approximately two-thirds of the space where the waterfall is placed. For example, if the plan is to centre the water feature on a 6.1-m (20-ft) wide pool wall, the water feature and surrounding rocks and plants should incorporate at least 3.6 to 4.2 m (12 to 14 ft) with 1 m (3 ft) on either side. If it is built any smaller, the feature will look awkward and reduce the desired effect of blending it into the landscape.
Depending on budget, or the size of the pool, builders should consider offering water features in small, medium, or large options. Today's backyards are getting smaller and, in some cases, can only accommodate a small pool; therefore, it is important to be able to offer a water feature that fits a range of pool sizes. Medium-sized water features might include a larger waterfall with additional flanking landscape boulders, which might comprise real stones. Adding additional landscape boulders can lengthen the waterfall setting along the pool edge—even integrating a small slide is possible.
Slides surrounded by cast-concrete rock offer a more functional and exciting water feature as it not only creates an attraction for kids, but also allows water to cascade down into the pool, providing soothing sounds that can be enjoyed by all. Finally, if a builder is working with a much larger pool, water features that incorporate grottos, caves, seating, and waterfalls are sure to become the focal point of the backyard.