Hardscape lighting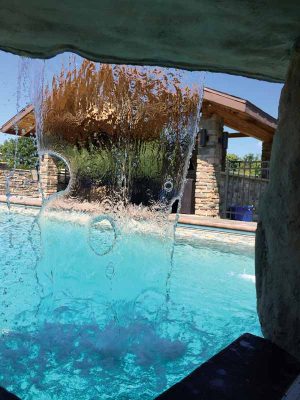 Naturally, pool builders discuss the details of the client's project (e.g. the pool's shape and surrounding landscape elements) during the day; however, it is important not to forget what the finished project will look like in the evening.
"You have to help the homeowner visualize and plan how they will be able to use their pool and outdoor living space at night," says MacGillivray. "For instance, if you do not plan to include pool lighting, the homeowner will have a big black hole in their backyard, which will not be inviting or very safe."
Some homeowners often neglect thinking about how their pool and backyard will function at night so this becomes the job of the builder or backyard designer to add strategic nighttime lighting and other effects that draw the client outside after the sun has gone down.
"Even if the homeowner does not think they will be swimming at night, they will likely say they plan to sit outside and enjoy conversation or entertain nearby the pool, close to a warming element," says MacGillivray.
Regardless whether the project is a new installation or a renovation, pool builders and landscapers should take the time to include a warming hardscape element in the design (e.g. fire pit, fire table, or fireplace). Homeowners look to their backyard professional to incorporate these fire features so they get more enjoyment out of their pool and outdoor living space at night.
In the past, builders exclusively provided lighting options around the pool to illuminate the backyard for nighttime use. However, fire features have become much more economical over the last five to eight years, many of which now include integral water features that allow pool builders to capitalize on the mesmerizing effects of fire and water in the backyard.
To avoid big surcharges relative to the bond beam (the top horizontal part of the pool where the coping material [e.g. natural stone, brick, concrete, or tile] is placed), cast-concrete rock also allows builders to incorporate lighting more easily.
"In our projects we will often cut channels in the surface of the cast-concrete stone into which we'll embed long lighting strips to create a glow that illuminates a waterfall or cascade," says Dan Lenz of All Seasons Pools in Illinois. "These lights not only help to set the mood for water features, but also define surfaces and textures at night. In most cases, the objective is to hide the source of the light within the grotto or waterfall, creating a glow and another source of light that beckons homeowners outside once the sun goes down."
Do not forget landscaping
As the pool, water feature, slide, and deck are being designed, it is important builders do not forget to plan the landscaping, too. By incorporating natural elements such as potted plants or pockets of vegetation into the mix, it helps to soften the edges and create an oasis-like setting. Planting areas can be planned into and around the hardscape features, as well as on the backside of the water feature. This type of landscaping can also be completed around slides.
"In one particular case, we created a water feature using cast-concrete stones plus a slide with planting pockets on the front and back," says Lenz. "We even integrated a herb garden on the backside of the hardscape feature for the homeowner."
On this particular project, All Seasons Pools accomplished multiple goals including creating privacy from neighbours, providing tranquil 'white noise' from the water flowing down the slide, and offering the homeowners a fun feature that would be used by their grandchildren.