Sound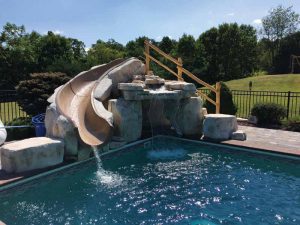 The natural sound of trickling water emanating from the feature is a key element that consumers are drawn to when incorporating this particular hardscaping option. In lower light, the subtle noises made by even a small waterfall, for instance, can fill a space brilliantly. Creating tranquil sounds of flowing water have become important in today's backyards as it provides a relaxing soundscape.
"People like to keep their water features running well into the fall and sit outside with the sound of water cascading in the background," says Shaeffer.
Waterflow
One of the main reasons many builders use cast-concrete stone over natural stone is because the former, along with component systems, create features with predictable water flow. It is critical the flowing water makes its way back into the pool. If the water does not return to the pool properly, it can get underneath the vessel and cause problems. It is also challenging to get the water to flow in a pleasing stream. That said, cast-concrete systems are designed to ensure the water flows properly and beautifully back into the pool.
Waterfalls built using natural stone can have seepage problems as a result of the bond and motar failing between the stones. Before the availability of component water feature systems it was hard to ensure water would flow back into the pool after pouring over a mass of natural boulders as a result of the difficulty of placing the stones in a configuration that would force the water to flow in a predetermined direction.
Further, water takes the path of least resistance, so every angle and crevice can potentially cause problems exponentially. Every natural boulder is unique; therefore, it is impossible to predict the outcome of the water flow. In contrast, component systems have been tested and designed to ensure water flows exactly as predicted, assuming the builder follows the installation instructions correctly.
Once the feature is fully functioning, builders must make sure there is not too much water flowing through the waterfall. A common mistake is to have water splash out and cause the pool to lose water. Sometimes this splash out is not visually obvious because it flows out behind the water feature. In this case, the client's water bill will not only increase, but the splash out may cause damage to surrounding vegetation and decking.