Rules of thumb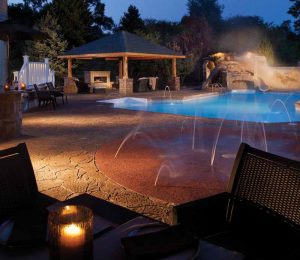 Pool professionals are not always trained in landscaping but there are a few rules of thumb that should
be followed:
•Have at least three 'layers' of plants that are tall, medium, and short to provide visual interest around the water feature.
•Include a variety of leaf colours and textures. Plants such as ornamental grasses, ferns, and palms are good choices. Builders should consult with a local nursery to find out what will grow best in the region where the pool is being installed. Short plants such as herbs can also work for planned plant 'pockets' within the water feature.
•Most importantly, do not choose plants that drop their leaves close to the pool edge—customers will not be happy with the added debris in the pool water.
Backyard oasis
Moving water provides soothing sounds and inspires children to play and adults to relax. By night, water features create focal points that when strategically lit, provide a warm ambiance that makes people want to sit, linger, socialize, and enjoy the backyard. Thoughtfully designed, these projects can be stunning and provide the perfect setting for 24-7 family enjoyment. Pool professionals that select and install the right mix of hardscaping can turn their client's backyard into a visual masterpiece.
By Bruce Riley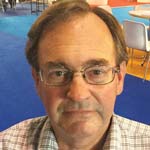 Bruce Riley is the managing director of RicoRock Inc., makers of cast-concrete rock, including component systems for building caves/grottos, waterfalls, and waterslide products for use in pool applications. Riley focuses on developing new products and managing commercial installations. He built rock-type pools in southern California for more than 25 years and now uses this experience to design standard waterfall kits for the company. He can be reached via e-mail at bruce@ricorock.com.