What about diving boards, waterfalls, ladders, and other features?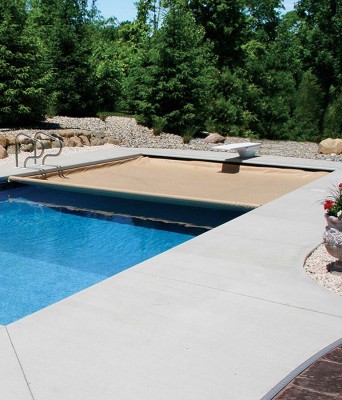 Solid and mesh covers can be made to work with any feature. By using various design and anchoring techniques, solid and mesh safety covers can be fabricated to attach to or go around any feature.
Pool owners should never think their pool cannot be covered. Most customers would be surprised at the number of unique pools that incorporate a safety cover.
Automatic covers that are installed using an under track system are unaffected by features on the deck. Top track and deck mount systems may not work with some features, but there are many options to help with these types of installations. And of course, anything that would prevent the automatic cover from closing would need to be addressed before installation.
Are automatic covers considered safety covers?
When talking about safety covers, most people think of traditional solid or mesh style covers that are installed using anchors around the pool. However, automatic pool covers are also classified as safety covers. Although they provide many unique benefits, one of their primary functions is safety; therefore, it is important builders and homeowners know that automatic covers are approved under American Society for Testing and Materials (ASTM) safety standards, which is the same requirement used by solid and mesh covers.
Are safety covers worth the cost?
When purchased alone, an automatic, solid or mesh safety cover can seem expensive to the average pool owner. Even a $1300 solid or mesh cover, which is less expensive than an automatic cover, can seem steep when purchased as a standalone product. One way to solve this is to bundle a safety cover into a package with every new pool sale. By absorbing the cost of the cover into the total price, the homeowner will be less likely to suffer from sticker shock.
It is also important to help the pool owner understand the annual cost, rather than focusing on the upfront cost. Solid and mesh covers, for example, will last 10 years (or more) when properly installed and maintained. This makes the annual cost reasonable.
For automatic safety covers, pool owners will see savings over time and the cover will actually pay for itself based on several factors, including:
Heating
Water evaporation and heat loss can be reduced by up to 70 per cent when the pool is covered when it is not being used.
Chemicals
Automatic covers help to keep the pool's water chemistry in balance. Pools also lose chemicals through water evaporation. An automatic cover seals the water in, reducing chemical loss by up to 70 per cent.
Solid and mesh covers will also lessen the amount of chemicals needed in the spring by reducing the amount of algae growth and debris that collects in the pool.
Electricity
Automatic covers reduce the amount of energy needed for water filtration, as dirt and debris is kept out of the pool. This can save approximately 50 per cent on a homeowner's electricity bill because the filtration equipment will not need to operate as frequently.
Water
As mentioned earlier, an automatic cover reduces water evaporation; therefore, keeping the pool covered when it is not in use eliminates the need to constantly add water to the pool.